Drikung Bhumang Relief Nepal- On May 15th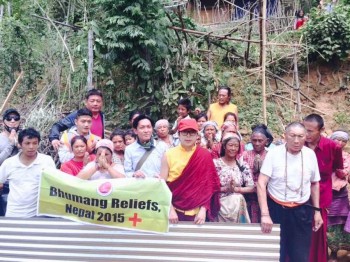 On May 15th, H.E. Bhumang Tulku and H.E. Chodak Tulku been one village near Swayambhunath, it's an one of famous place in Nepal. Cause there villagers requested for the help, that village was severely devastated as nine houses collapsed. Rinpoche give each of them living supplements such as sack rice, drink water, mats, blanket, etc. specially distributed 12 iron sheets(90x200cm) to one family, allocated iron sheets to nine family as what they repair house need.
We are specially appreciate H.E. Chodak Tulku give Bhumang Relief as great helps, even he injured couple days ago, Tulku were still without hesitate supportIng Bhumang Relief.